Thousands of plane passengers are facing major disruption after all flights were grounded at Gatwick Airport as two drones were spotted flying over the airfield.
Frustrated customers complained of being held on the runway for hours after planes came to a grinding halt at the airport following the security alert on Wednesday. As a precaution and safety procedure for both passengers and aircraft all airport operations were shut down as police conducted a search of the elusive drones that are being sighted all over the airport
Gatwick warned passengers the chaos was likely to enter a second day and asked anyone planning on travelling to or from the airport to check their flight's status. More than a 110 000 people across more than 750 flights today will be affected by this incident.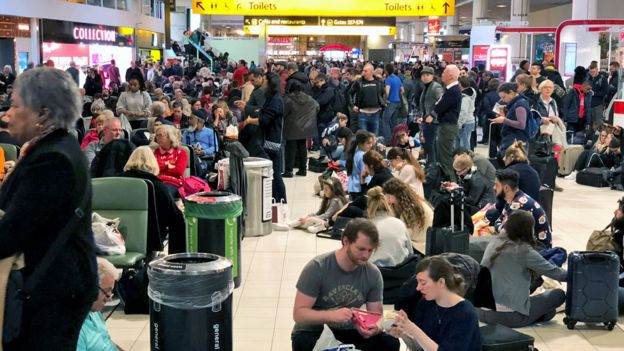 Gatwick remains closed, the airport said in its latest statement:
"Gatwick Airport's runway remains closed and all flights are currently suspended following reports of drones flying over Gatwick's airfield last night and this morning.
"There is significant disruption at Gatwick today as a result of what appears to be a deliberate attempt to disrupt flights.
"We are extremely disappointed that passengers are being affected by this, especially at such an important time of year. We are prioritizing the welfare of those at the airport by deploying staff into our terminals to look after people as best we can.
"We are working hard with our airlines to get information to passengers but would advise anyone booked onto flights from Gatwick, or meeting arriving passengers, not to travel to the airport without checking the status of the flight with their airline or on our website first.
"We apologize for the continued inconvenience, but the safety of all passengers and staff is our first priority."
Sussex Police confirmed officers were at the scene and responding to reports of a drone sighting at the airport. A police helicopter was reportedly searching for the drones.
Furious passengers described how they had been stuck on the tarmac for as long as two hours amid the mayhem. Others said their flights had been diverted to other airports while Gatwick remained closed off.
Drones are meant to be flown on airspace that is not close to airports or other unauthorized airspace but getting them under control has been hard. Rouge and thrill seekers will always find a way of flying their drones near passenger aircraft at times just to take pictures or videos of the planes as they land or take off and fly.
Responsible drone usage is encouraged and advised for anyone living near civilian airports but unfortunately its not everyone who likes following the law.